More Cowbell (or Lessons in Branding from the Vancouver 2010 Olympic Games)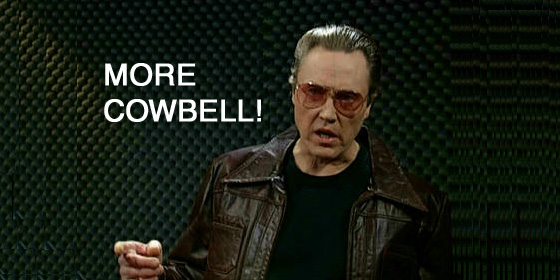 I was watching the Olympics the other day and I got a kick out of some fans waving "More Cowbell" signs during an event. The rest of the crowd accommodated enthusiastically by making more noise (with their cowbells, of course). As each Olympic day comes to an end, it seems like the cowbells are getting louder.
Since I run a marketing agency in Vancouver, it occurred to me that B2B companies could take a page out of the Olympic brand experience and add a little more cowbell to their brands.
There's More Cowbell at the Olympics This Year
In July 2004, our agency participated in the Vancouver 2010 Olympic Logo Competition. During the orientation, I recall VANOC CEO, John Furlong, speaking passionately about the Olympic experience. It was critical that the new logo symbolize a brand that could embrace the world, evoke the Canadian spirit, and build a lasting impression that would leave an Olympic legacy. That's a lot of cowbell.
Being from Vancouver, I can tell you that VANOC delivered. The look of these games is truly spectacular. Everywhere you look, the colourful images and graphics evoke excitement and a rich Canadian flavour. "Ilanaaq", Vancouver's 2010 Inukshuk logo, is the perfect moniker, clearly communicating a simple message of how the world views Canada: traditional, friendly and welcoming. Heck, even Ilanaaq's legs look like cowbells.
I have to hand it to VANOC. Everything from billboard banners, to apparel, to TV campaigns has been executed with branding brilliance. Vancouver's Olympic Games illustrate the evolution of a successful brand experience. If Mr Furlong was asking for more cowbell back in the Summer of 2004, I think he got it. These Olympics come complete with their own cowbells (see below) and an iPhone app aptly named "Cowbell2010".
5 Branding Principles That Can Provide a Business with More Cowbell
There's much a business can learn about developing a brand experience from an event like the Olympics. I'm not suggesting that a business should duplicate the effort and spend the money that VANOC put into these games. That's completely unrealistic for most engagements. I am suggesting that successful brands are guided by basic principles that can help a business achieve amazing results, regardless of scope.
Every brand starts and ends with people – All brands are CEO-level initiatives. Every successful brand is championed by an executive team that is committed to making it happen 100%. The buy-in flows down, not up. Brands become the organization's cultural fabric and lets everyone know what they are standing for.
Keep the experience in mind – In order for a brand to truly resonate, it must be relevant and meaningful to the target market. Too often we make the mistake of focusing on the creative design, the "cool, fun part", that we forget who and what we're designing for. The brand experience is all about trust. When you give your audience confidence and comfort in your products or services, you will earn their trust.
Be strategic – It's crazy to think you can build a house without a blueprint, right? Well, it's just as crazy to think you can build a brand without a strategic plan. Do your best to resist the temptation to jump ahead into the creative phase without proper planning. Plan your work, then, and only then, work your plan.
Be different – In order to differentiate, your brand must stand for one thing and one thing only. You can't be everything to everyone and whatever you do, don't copy your market leader. Learn from them, but carve your own niche by creating memorable and lasting impressions that resonate with your audience. This is where your creative must shine. Creative thinking produces innovative solutions, not copy-cats.
Engage and connect – Brands are judged and analyzed the same way people are. That's why it is so important to engage and connect with your audience at every touch point. Today, businesses have more opportunities to engage and connect than ever before through online campaigns, blogs, social media, and yes, even iPhone apps.
It doesn't matter whether the brand experience is on a small scale, or of Olympic proportion. Successful branding is achieved by adhering to proven principles and strategic planning. It's all about engagement and connection.
That, and more cowbell.