What is Digital Maturity?
Digital Maturity is a new concept for B2B. The concept can be compared to growing a competency or any set of skills and activities that take you from novice to expert in a particular dimension of business.
As previously discussed, Digital Maturity is more than just a money-maker when properly implemented.
From manufacturing to technology, every industry has businesses that have already begun to gain the benefits of digital transformation and building authority as communication leaders. SAP, IBM, and Cisco are few recent examples of corporations pioneering digital maturity for other B2B's to follow, no matter how big or small the operation.
This should be a call to action for executives in every company. It takes several years to build maturity, especially in the transformation of your management and human adoption inside the company culture.
The higher a company's level of digital maturity, the better its financial performance is likely to be.

– MIT/Sloan Management Review
New digital technologies and communication innovations like social, mobile, video, and analytics are advancing rapidly in business and have already started influencing buyer behaviour. Content is more important than ever before because engaging, trustworthy content is what is getting vendors shortlisted at the end of the B2B purchase journey.
The B2B Digital Maturity Model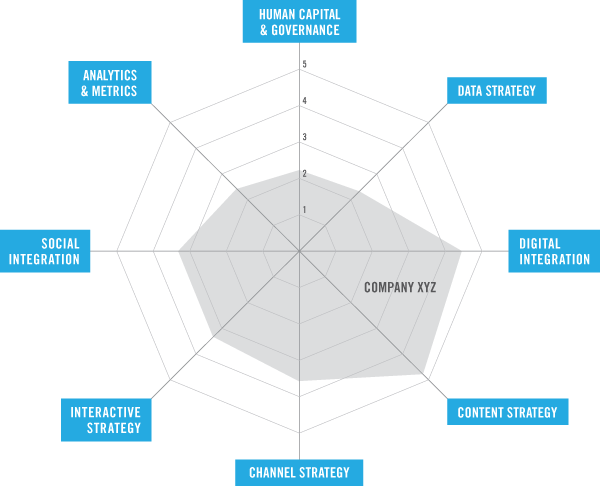 In order to begin the education process and help B2Bs get up to speed on becoming 'digitally mature', we have designed a survey specifically with the B2B sector in mind. The illustration above is a sample of how a company could potentially score using our B2B Digital Maturity methodology.
The 2013-2014 Multi-Channel Marketing Survey will run from September 2013 to March 2014. The goal is to capture as much insight and provide each participant with a road map to digital maturity by analyzing a company's digital core using the eight dimensions shown above. It is also tailored to three levels of participation: C-Level executives, middle managers, and internal marketing communication resources (if applicable). It also provides a benchmark set of data that will enable each participating company to chart its current technology adoption position and help guide future success.
Your Turn
The B2B Digital Maturity Series is an ongoing, open educational discussion to share insights and know-how so that B2Bs can successfully bridge the content gap with tools to assist in balancing the workload for sales, marketing, and management teams. We encourage your input and will continue to listen for more ideas to promote the importance of "˜being social with relevant content to help buyers buy'.
Do you think Digital Maturity for B2Bs is important? Do you think a Digital Maturity Survey would benefit your metropolitan area? Let us know by sharing your thoughts and suggestions below or on Twitter (@SterlingKlor).
—
NOTE: The 2013-2014 Multi-Channel Marketing Survey is targeted to Metro Vancouver B2B organizations and there is no cost to participate. Companies participating will receive a confidential report of their results approximately 30 days after completion of the survey. A final compiled industry ebook report will be delivered to all participants after the first quarter of 2014 in order to provide a clear picture of how a company scores against its peers as well as industry standards for the Metro Vancouver area. All data in the ebook will be presented anonymously to ensure privacy.